Links
For more information on the project sponsors and supporters, click on the relevant links.
Encraft are an independent organisation providing site-specific and technically-meaningful impartial facts and advice about low carbon technologies.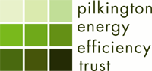 PEET is a trust that provides funding for research that aims to improve the energy performance of buildings. Although funded by Pilkington, the trust is run by trustees who are independent of the company and they decide which projects to fund.

Action21 is a community organisation promoting a sustainable future for Warwick District. It runs a variety of projects in energy, transport, waste and recycling.

Encraft is a delivery partner for Warwickshire County Council's Climate Change Strategy. This project is being delivered with the support of the Strategy Steering Group.

Warwick District Council are installing up to 10 systems on social housing around the District as part of the project.

The DTI are developing and implementing a national strategy for microgeneration. This project is giving them some rapid feedback on progress and effectiveness. They are also helping to disseminate outputs.

The Micropower Council are a national lobbying and membership organisation for microgeneration technologies. They are helping to disseminate project outputs.

The British Wind Energy Association are the industry association for wind power in the UK.